Facility
Located right off of highway 159, The Fox Creek Clubhouse is a large, open facility with an all brick exterior to fit the rustic forest atmosphere. Bright windows surround the building adding to the naturalistic setting. Parking for up to 200 customers is available for large parties and tournaments to fit every Fox Creek customer's needs.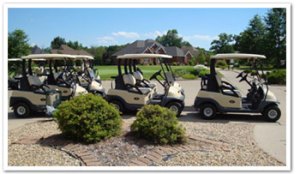 Clubhouse Lounge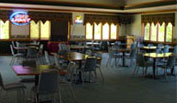 Clubhouse LoungeThe clubhouse lounge area is conveniently located next to the bar where customers can enjoy watching sports or satellite television, and can have room to spread out and enjoy snacks and refreshments after a long hard day of golf. The lounge area can also accommodate small parties and tournaments.
Banquet Room
Banquet Room The banquet room easily accommodates 150 guests for large tournaments, parties, or wedding receptions. Our staff provides linens, glassware, and centerpieces for a sophisticated design. A professional kitchen is located off of the side of the banquet room for caterers to serve each event. View more >
Pro Shop
Pro Shop The golf shop fits every golfers shopping needs with apparel by popular name brands. The shop offers a variety of colors, styles, and items to fit the taste of each customer. We also offer Fox Creek logo balls and hats along with a wide variety of golf balls to suite every customer. View more >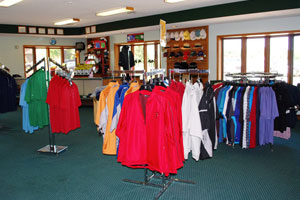 Bar
Fully Stocked Bar The bar area is fully stocked with high quality liquor, refreshing beverages, and top of the line service. Our staff gladly prepares lunch and grill items such as deli sandwiches, burgers, bratwursts, and hot dogs for the golf and bar community.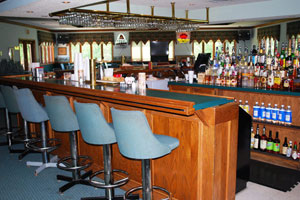 Outdoor Deck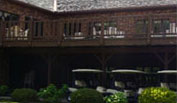 Ourdoor Upper Level Deck The outdoor upper level deck area allows customers to sit outside and enjoy the scenery of hole nine and the surrounding subdivision. The upper deck accommodates up to fifty people to enjoy refreshments and Fox Creek views.